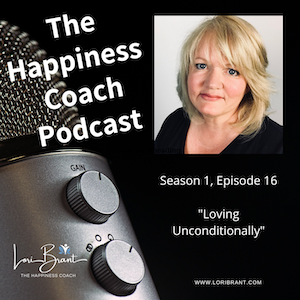 Lori Brant shares her personal account of how she recognized the unconscious conditions she placed on love.
We may go into relationships believing we are loving and being loved unconditionally, but instead, we have a hidden list of feeling expectations and we are instead, looking for someone to elicit those feelings within us, that we can't connect with, within ourselves on our own.
Be Coached or Become a Life Coach. Go to www.LoriBrant.com for information on Lori Brant's one on one coaching packages, and/or Certified Life Coach Training dates where you can train to be a Life Coach with Lori in just 4 days by teleconference.
Begin uncovering, "The Strategies That Keep You Stuck," by downloading your
FREE eBook at  www.LoriBrant.com/free-ebook.
Attend the Unleash Your Greatness Conference. An empowering, interactive weekend conference, from May 1-3, 2020 in Ridgeway/Crystal Beach, Ontario. Located on the shores of Lake Erie at the beautiful, Buffalo Canoe Club, where you'll enjoy 3 days of relaxation, insightful activities, inspiring speakers and interactive workshops.
This conference is unlike any other. It is designed to draw your awareness inward, to gain clarity and to develop practical tools to live life from your natural state of greatness that you already are. 
Go to www.unleashmygreatness.com for more information or to buy tickets.